"CATS DESERVE 9 LIVES...NOT 9 LITTERS"
© 2012 Feral Cat Rescue, Inc.

More available cats and kittens...

The pictures for Hunter are terrible because he comes over to me for attention and won't stay away from me while I try to take the photo. I will get some better ones when a friend visits. He loves to be petted and loves to sit on my lap. He needs to be a ONE AND ONLY CAT. He also needs to be kept inside only and have high quality food. ​He has feline aids and is only contagious if he has sex with another cat which he cannot or if he gets in a fight with one and blood is drawn. He can live a very long life and never get sick. Applications can be filled out here and emailed to diane@feralcatrescuemd.org He is super sweet and needs love.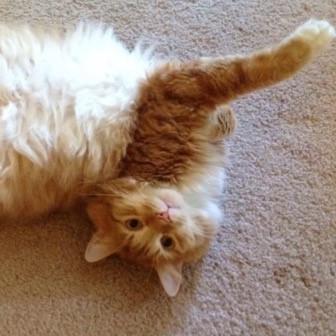 My name is Dozer and my sister is Precious. We are beautiful four-year-old cats that have been cherished by our wonderful owner since we were kittens. Sadly, her severe allergies and doctors' orders have forced her to find us a new home. As you can imagine, we are quite devastated and still fearful from this major upset in our lives! We seek a patient family who can empathize with our plight and allow us some time to adjust sothat we may revert back to the loving companions we were before. Could you be our angel of hope? My sister is a petite kitty weighing in at 6lbs; I am her big brother and weigh 17 lbs. We are being fostered at themoment and slowly learning to trust new people and situations. We mightdo better in a quiet space, at least at first. Our previous owner tooksome fabulous pictures of us to share our outgoing and fun personalities! We hope we are given a chance to shine again! Please consider us. Fill our an application and email it to diane@feralcatrescuemd.org.
Hello! I'm Maggie! My fur is a mix of orange and gray tabby. Aren't I beautiful? My litter mates are Homer, Marge, and Lisa. We were born in early May and will soon be ready to go our forever homes. We kittens love to play, cuddle, and purr. There are so many kittens our age available and we like having playmates, so please consider adopting us in pairs (we don't mind joining our new family with a kitten from a different litter). If you're interested in adopting us, you can fill out an application and email it to diane@feralcatrescuemd.org. If we haven't been adopted by the time we're 8 weeks old, you can meet us at the Petco in California on Saturdays and Sundays between 10:30 and 3.
Love, Maggie
My name is Paul. My siblings are Peter and Mary. I was trapped at a local restaurant along with my mom and my siblings. We were living out of the dumpster. Our mom was spayed and put back outside because she was so feral. The restaurant workers like her and leave food out for her, too. She will keep the rodent population down at that restaurant. Let me tell you about me. I was so scared when they first caught me. I was hissing and trembling. Now I love to be petted and purr. My foster mom has been holding me a lot so I will make an excellent addition to any family. She hurt her knee so she sits a lot and holds us. When she walks into the room, instead of hiding I run over so I can get some of that love. We were born around April 20th. If we are not adopted online, we will be going to the Petco in California on Saturdays and Sundays from 10:30 to 3 around June 20th. You could fill out an application and email it to diane@feralcatrescuemd.org Once approved you could meet us at our foster mom's house and reserve us. Maybe you would like to adopt two of us so that we can have a playmate when you are at work!
Love always, Paul