"CATS DESERVE 9 LIVES...NOT 9 LITTERS"
© 2012 Feral Cat Rescue, Inc.

More available cats and kittens...

My name is Zeus. I am FIV positive which means I need to live with other cats who are FIV positive or be an only cat. I can only transmit this disease to another cat by biting them. I could live a very long life but my immune system is compromised. It will be harder for me to fight disease. I love to be petted and when my foster mom lays down, I love to come over and snuggle with her in bed. I really love when she talks softly to me and pets me and tells me I am a pretty boy. I was very shy at first but have come around a whole lot. I need a more quiet home. Loud children would scare me. You can meet me at the Petco in California on Saturdays and Sundays from 10:30 to 3. You can fill out an application and email to diane@feralcatrescuemd.org.
Love always, Zeus


Clay–Cat-Domestic short hair – One-year-old Male
My name is Clay. I have a gentle personality and will jump into your lap to be pet. I was found in St. Mary's County and need a forever home. If you're interested in adopting me, you can fill out an application and email it to diane@feralcatrescuemd.org . You can meet us at the Petco in California on Saturdays and Sundays between 10:30 and 3. Love Clay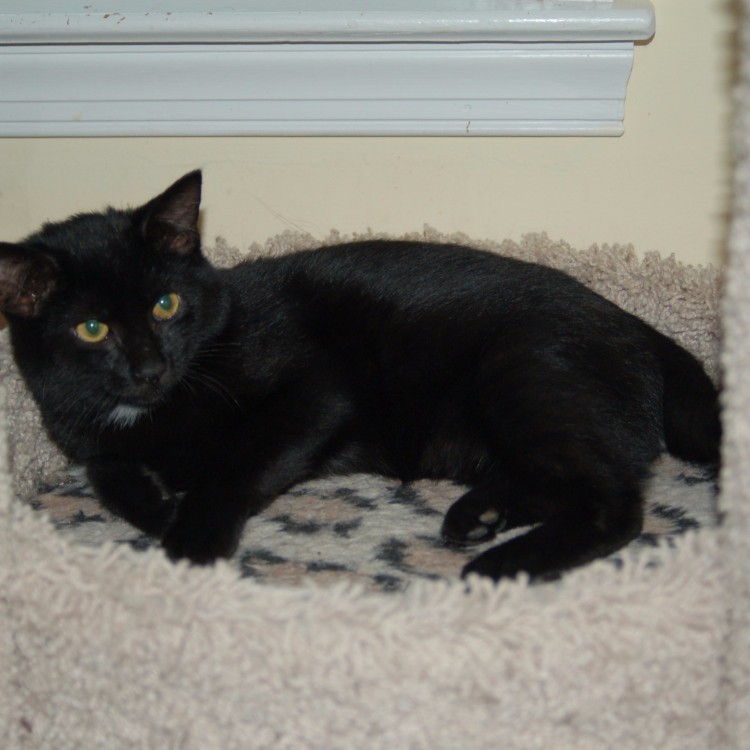 I am LUNA! My best friend in the whole world was Venus, but she got adopted so I live with six big foster cats until I find my own home. Guess what happened to me? I accidentally rode to work with someone because I climbed into their car engine to keep warm. Thank goodness someone heard me crying in the parking lot and rescued me. About me: First of all, I am extremely sweet, cute, fun, playful, charming, and very expressive. I meow like a squeak toy. I follow you around. I purr a lot & when I'm tired I may fall asleep on your lap. But not until I'm done running around and exploring as much as I can. I love sleeping in my big cat tree too. I do that a lot. Second, I admit, I am a little head-strong and full of determination to do things my way. I am alert and sharp. I am not afraid cat either. My motto is "Life is to be lived every second, so greet each day with a big purr and giant bowl of food". I am independent (like sometimes I'll sleep by myself in the living room like a big cat, then wake up and jump into your bed later). I am a fiery bundle of 'Luna fast' lighting speed, personality, and zest for life. But, I'm going to take a nap now on my tree. Would you like to come meet me at Petco? Fill our an application and email it to diane@feralcatrescuemd.org. Love, Luna.

My name is Dozer and my sister is Precious. We are beautiful four-year-old cats that have been cherished by our wonderful owner since we were kittens. Sadly, her severe allergies and doctors' orders have forced her to find us a new home. As you can imagine, we are quite devastated and still fearful from this major upset in our lives! We seek a patient family who can empathize with our plight and allow us some time to adjust sothat we may revert back to the loving companions we were before. Could you be our angel of hope? My sister is a petite kitty weighing in at 6lbs; I am her big brother and weigh 17 lbs. We are being fostered at themoment and slowly learning to trust new people and situations. We mightdo better in a quiet space, at least at first. Our previous owner tooksome fabulous pictures of us to share our outgoing and fun personalities! We hope we are given a chance to shine again! Please consider us. Fill our an application and email it to diane@feralcatrescuemd.org.